As a professional recruiter and certified resume writer I have reviewed hundreds of thousands of resumes.  The vast majority of resumes have serious flaws and I have identified the top ten critical mistakes that job seekers are making with their resume.  It is my hope that this article reaches as many people as possible (please share – social media buttons are on the left ) because I truly believe that the resume advice contained within this article will positively impact all who read it.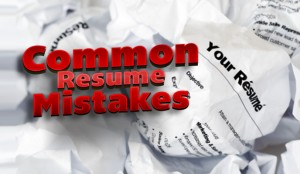 Resumes that create no immediate impact end up in the bin
First impressions really do count, if your resume doesn't grab the reader's attention in the first 20 to 30 seconds then your chances of obtaining an interview are dramatically reduced.  Let me explain further. An employer may have 100, 200 or more resumes to look through for each job vacancy and only an hour or two in which to make their selection of who they interview. You must make an employer want to invite you for an interview. If you can't tell them quickly why they should do so, then they will move quickly on to the next resume. The first you know is when you receive a rejection letter or, worse still, hear nothing at all.  So, don't put irrelevant details on the first page of your resume, such as personal details (marital status, date of birth, etc), educational details from years ago, or a list of your hobbies. What an employer really wants to know is why they should invite you for an interview. For this reason, a summary of your capabilities in the form of a short profile at the top of your resume, followed by a list of your major achievements, will really grab an employer's attention.
Poor visual layout / organization of information
The visual layout of your resume is very important. Even though the wording you use may be correct, if people can't find the information they want quickly enough, they will move on to someone else's resume. It is usually best to use a fairly straightforward layout, using plenty of 'white' space and appropriate headings and section breaks. Don't try to use fancy borders or graphics, as these often make the file size very large, causing problems when you try to email your resume or print it out. Plus they may detract from your resume's content. You should normally break your resume down into a number of separate sections, as this makes it much easier for the reader to find information quickly. Typically, you might have the following sections:
1. Profile (or Summary).
2. Major Achievements.
3. Career History (or Work Experience).
4. Education / Qualifications (this may go before the Career
History section if you are still studying or have recently left
education).
5. Training (may be combined with Education, depending on space).
6. Language Skills (optional).
7. IT Skills (optional).
Please treat the above list as a guide rather than a fixed formula. What works best for one person may be inappropriate for another.
Overlong resume
It is usually best to try and keep your resume to two or three pages, unless someone specifically asks you for a longer version. If you can't keep your resume to this length, then you probably haven't understood what an employer is looking for. Employers don't want to know your whole life history – just enough to decide whether they want to interview you or not. Employers usually only spend 20 to 30 seconds reading each resume during their first pass through a pile of resumes, so simply won't have time to read a 10-page resume.
No Profile section or a poor Profile section
Your Profile should be the first section on your resume. It should give a short summary of what you have to offer an employer, focusing on your key skills, strengths, talents and experience. Not having a Profile section at all is a major missed opportunity, because it is your chance to sell yourself to an employer. However, having a poor profile is almost worse than not having a profile at all. If you get your Profile wrong then this can cause your resume to be rejected almost immediately by an employer. Your Profile needs to sell, sell, sell, but in a believable manner. If you oversell yourself, then your resume may be rejected as being unbelievable.
No Major Achievements section or a poor Major Achievements section
After the Profile section, you should have a Major Achievements section, which must highlight your best and most relevant achievements. This should make an employer really sit up and take notice of you. This section must focus on what specifically you can do for an employer. If you don't have a Major Achievements section, then you've missed a real chance to shine and connect with an employer. Employers want employees who get things done. Highlighting your achievements will show them that you are this type of person. A Major Achievements section also tells an employer why you should be offered an interview, rather than all the other job applicants. Just as a poor Profile may put an employer off, a poor Major Achievements section will also have the same effect. You must think about what you have achieved in your current and previous jobs. For example: What results have you achieved? What have you changed or improved? Some people feel that they don't have any Major Achievements, but in my experience as professional resume writer this is just modesty on their part. All you need is someone to tease these achievements out of you. You must only include achievements that made a real measurable difference, and don't include irrelevant stuff from a long time ago. Nobody wants to hear about the school swimming certificate you got 20 years ago!
Overwritten – long paragraphs and sentences
If you have very long sentences / paragraphs in your resume, this makes it very difficult to read quickly. Time is of the essence if you want to impress the employer and gain an interview. Always try to keep your sentences short and punchy. Use bullet points and 'white' space in your CV to break up the information into manageable chunks.
Too much detail or too little information
 
Remember, that you have to impress the reader in just 10 to 20 seconds. If you have included too much detail on your resume then an employer may struggle to gain a quick understanding of your experience and capabilities, and simply reject your resume. Including too little or the wrong sort of information on your resume will mean that an employer won't know whether you have the relevant experience and skills to do the job. They will quickly move on to the next resume in the pile. You need to identify exactly what employers are looking for, ensuring you have included the right sort of information about your current and previous jobs, and detailing your relevant experience, abilities and achievements.
Resume doesn't directly target the job you are applying for
When you are sending your resume to a company or a recruitment agency, always make sure you include a covering letter.
In the letter (or more likely an email nowadays) you must tell them why you are the right candidate for the job and why they should employ you, rather than all the other people who have applied. This may all sound rather obvious to you, but you would be surprised at the number of people who send only the briefest of cover letters that merely says, "Please find enclosed my resume". Too many people send a resume to a company without any thought for the person who will be reading their resume. You may also want to make changes to your resume, so that it more closely matches the job that you are applying for. The closer your resume and cover letter comes to matching an employer's requirements, the more likely you are to be offered an interview. However, don't just use the exact same words and phrases from the job posting. This is a recipe for disaster, as it may lead the employer to reject your resume, because they will think that you are a 'fake' who has simply copied their posting. If you are making a speculative application, you will need to write a particularly good cover letter to make the company sit up and take notice of you.
Misspellings, typographical errors, poor grammar
 
It is said that over half of all resumes contained spelling and grammatical errors. Keep in mind that recruiters are looking for reasons to reject the applicant, and bad spelling and grammar are near the top of  the list. As soon as the recruiter can reject those not suitable, they can spend more time reviewing candidates that have prepared a good quality resume. If a candidate can't be bothered to check their spelling, then they are not going to be bothered to do a good job for the company. Errors in your resume can detract from an otherwise good resume and make you look lazy or careless – not the sort of qualities you want to portray to an employer. This may give an employer just the excuse they need to reject your resume. You should carefully read through your resume, checking for errors and do run your word-processor's built-in spelling and grammar checker. You should also get several other people to check your resume too, because a spelling and grammar checker won't find every error.
Test, test and test again, to get that interview
 
If you've produced your own resume, then you can't expect it to be 100% successful the very first time you use it to apply for a job. Let's look at an analogy in the car industry. When a new model of a car is first manufactured, it is rigorously road-tested to improve the car and ensure that every component works correctly, both individually and together. Components are replaced when they fail, don't work correctly or when a superior alternative becomes available.  Just like a car your resume needs to be thoroughly road-tested and the bits that aren't working correctly need to be fixed, replaced or improved. You should thoroughly check your own resume and then show it to friends, colleagues, family members,  recruiters and employers.
Does your resume pass the 20 second test and grab the reader's attention? What do people like? What don't they like? How can your resume be improved? The only real test, of course, is to actually use your resume to apply for jobs. If your resume has been unsuccessful, try and get feedback from the employer or recruiter and then rework your resume accordingly.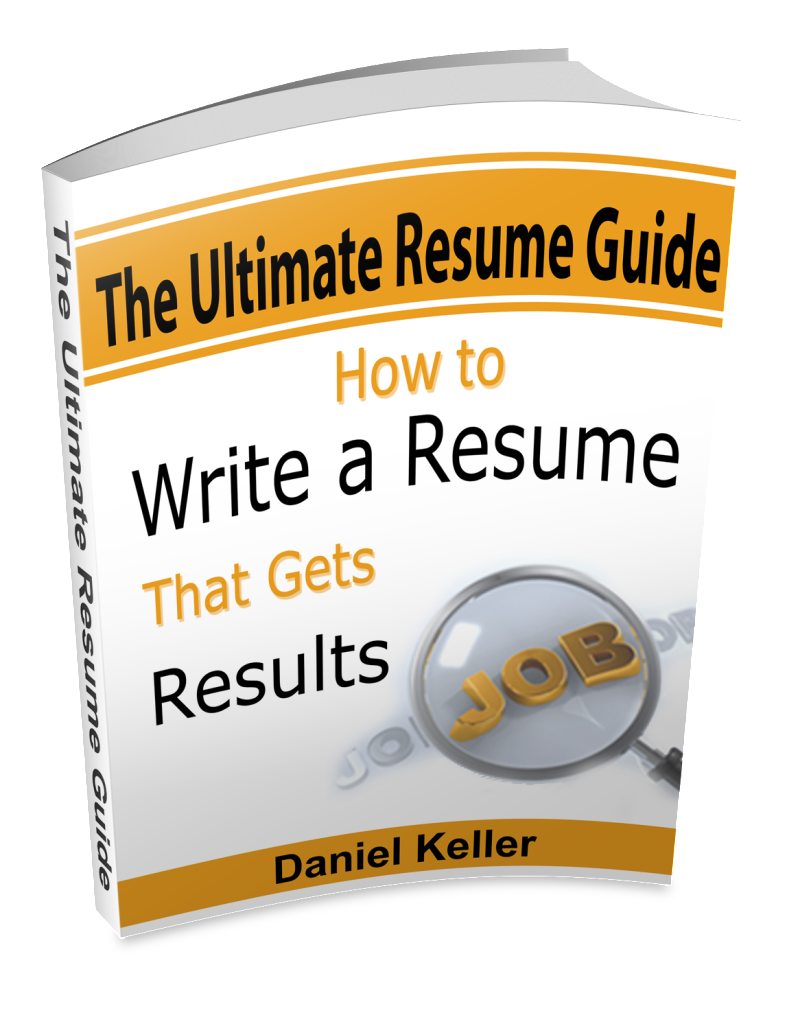 Sign up for our free newsletter for the latest career advice articles and
get the "Ultimate Resume Guide" Ebook for Free!